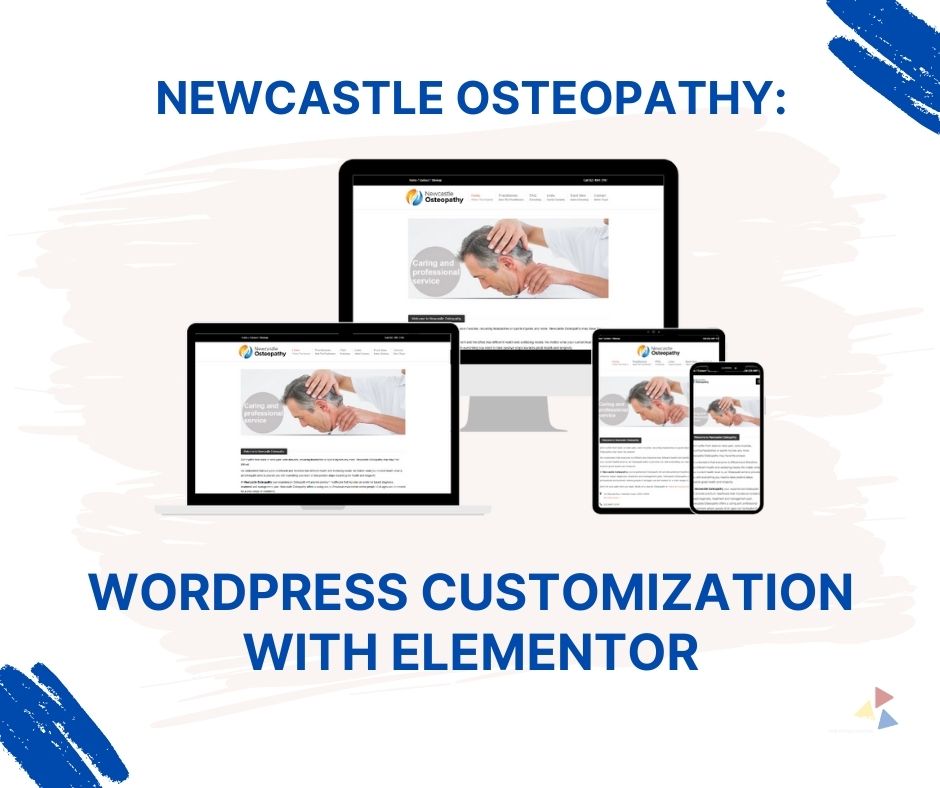 WordPress customization is super easy even for beginners depending on the user-friendliness of your chosen theme. To start customizing your WordPress theme, go to Appearance then Customize.
Newcastle Osteopathy is an Australian-based providing premium healthcare to all people of any age. They provide evidence-based diagnosis and treatment to various conditions.
Install and Setup WordPress Theme
A different web developer built Newcastle's website years ago. As the business aged, so as the website's theme. The WordPress theme used was so outdated that even implementing simple changes is too impossible. 
As we are problem solvers, we propose to change the theme to Nexas WordPress theme. Nexas theme is owned and developed by Paragon Themes. It is a modern, easy to use, and responsive WordPress theme.
As a result, the website maintained its looks but with easier to implement changes. From updating the text to adding images, it becomes very handy. Our WordPress customization expertise allows us to achieve the client's goal.
With Nexas' modern layout and Elementor awesome, the Newcastle website went on to the next level.
Visit www.newcastleosteopathy.com.au and see for yourself how we pull the old Newcastle Osteopathy website theme to a new version of itself.
Customizing WordPress can refer to a great many things:
Setup a home page that's personalized 

The sidebars, including widgets and menus, can be personalized. 

Customize the header and background for your website.

WordPress can also be used to build or customize plugins. 

Fonts, style, and pretty design.
As shown in our services and marketing needs, we have professionally personalized current or new WordPress themes. We provide installation of WordPress theme, customization of WordPress theme design, and WordPress theme code customization.
Do you have a WordPress customization project?
Get in touch with us today and let's discuss your project.